Ottawa PD Symposium November 26th - Hilton Garden Inn
Join us this Fall in Ottawa, Ontario for a Professional Development Symposium!
Learn all about Mortgage Fraud:
Agenda*
*Agenda is subject to change without notice
8:00 am | Registration, Mini Trade Show & Hot Breakfast
---
8:50 am | Opening Remarks
---
9:00 am | Equifax- what to do if your credit score affected by fraud?
---
9:40 am | Ed Karthaus, Home Trust
---
10:20 am | Refreshment Break & Trade Show
---
11:05 am | Marie Taylor, FCT
---
11:45 Geoff Rabideau, Rabideau Law
Terms of Sale:
The fee for professional development or networking events may be refunded until 5 days prior to the commencement of an event. The fee shall be refunded less an administrative charge of $10. Refunds requested within 5 days of the event shall be refunded less one half the amount paid by the participant. No refunds shall be granted on the day of the event or later. Request for refund must be made personally or by written communication to the association office.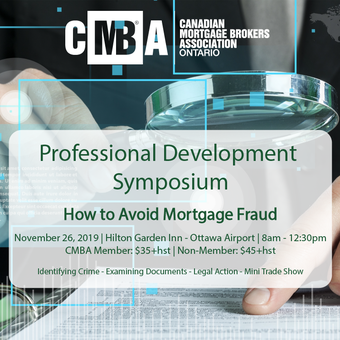 2400 Alert Rd, Gloucester, ON K1V 1S1, Canada